"NC is here. We are 'one team'. We will not let our guard down."
After three weeks of waiting, coach Lee Kang-cheol said, "NC is here. We are 'one team'. We will not let our guard down."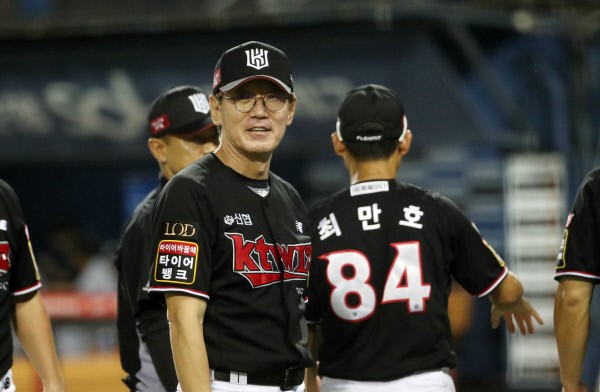 After a miraculous run from last place to second place, the KT Wiz's playoff opponents have been set.
The NC Dinos, who finished fourth in the regular season, swept the Doosan Bears in the wild-card decider with a first-game upset, then advanced to the semifinals against the third-place SSG Landers with three straight wins.
KT and NC will meet in the postseason for the first time ever. They will meet in the first round of the POs on April 30 at KT Wiz Park in Suwon.
The head-to-head record this season is 10-6 in favor of KT.
KT has been preparing for the playoffs since wrapping up the regular season 10 days early. The nearly three-week Korean Series break gave them plenty of time to rest, allowing Wes Benjamin, who hadn't been feeling well, and Young-pyo Ko, who had been hit by a pitch, to get healthy and pitch well in the playoffs. Kim Min-hyuk, who injured his hamstring while playing defense at the end of the season, is also available to bat.
KT head coach Lee Kang-cheol said, "We were able to see NC's power in the postseason once again. They are a well-organized team on offense and defense, so we will not let our guard down and play as we have prepared." "We had some crises in the regular season, but the entire squad came together as a 'one team' to overcome them and go straight to the playoffs. 온라인카지노 We will show the same performance and cohesion that we showed during the regular season in the playoffs. We will do our best to stand on the best stage with our fans once again, just like two years ago."