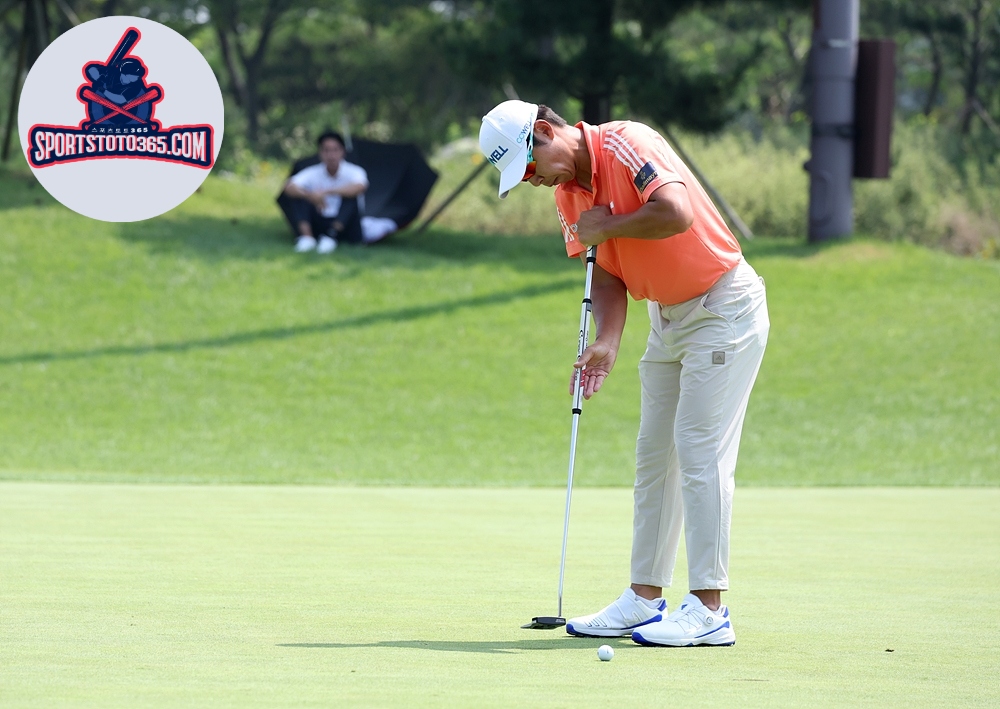 KPGA runner-up Lee Jung-hwan "Just do my job without giving up"
Sitting fourth in Genesis Points and seventh on the money list on the Korean Professional Golf Association (KPGA) Korean Tour this year, Lee Jung-hwan is having one of the most consistent seasons of his career.
As evidenced by his third-best birdie average per round (4.03) and seventh-best stroke average (70.94), Lee's game has been consistent.
If there's one thing he's lacking, it's explosiveness. He hasn't collapsed, but he hasn't exploded either.
His lowest 18-hole score this season was a 6-under 66. A top player should have at least one or two rounds of 7- or 8-under par or better.
That's why he's often in contention for wins, but has yet to lift the trophy.
Lee has already finished runner-up twice this season.
He had the game to make it to the top, but was two strokes short.
Lee made eight birdies and two bogeys in the second round of the KPGA Korean Tour Honors K-Solago CC Hanjangsang Invitational (total prize money of 500 million won) at the Sol Course (par 72) of Solago Country Club in Taean, Chungcheongnam-do on Nov. 21.
The tournament uses a modified Stableford format, which awards 8 points for an albatross, 5 points for an eagle, 2 points for a birdie, 0 points for a par, -1 point for a bogey, and -3 points for a double bogey or worse, so Lee earned 14 points on the day.
Lee, who also earned 14 points the previous day, has a two-day total of 28 points, giving him a one-point lead over Choi Jin-ho at 4 p.m. ET.
While this variation of Stableford favors the more aggressive players, Lee has been able to accumulate points through steady play.
Nicknamed 'Iron Man' for his iron accuracy, Lee said, "I've been hitting long iron shots since yesterday. The greens were soft, so a good iron shot was more effective," he said.
"I made two bogeys off the tee, but I didn't mind because one birdie was enough to make up for it," Lee said.
When asked about his inability to cross the threshold of victory, Lee said, "The phrase 'you can't say you want to do it' resonates with me more these days," but added, "All I can do is try my best every round. I believe that if I don't give up and keep working hard, good results will come soon."
Solago Country Club is just down the road from Hyundai Durings Country Club, where Lee won his first career title.
Lee claimed his first KPGA Korean Tour victory at the 2017 Kaido Golden V1 Open at Hyundai Durings Country Club.
Solago Country Club and Hyundai Durings Country Club sit side by side on the same reclaimed land.
"Every time I go to and from the tournament, I pass by Hyundai Durings Country Club. I feel good every time I pass by," he said, adding, "I want to bring back the momentum of my first win."
Choi Jin-ho made eight birdies without a bogey on the day to finish in second place with 16 points.
Kim Han-byul, the 2021 champion who returned to action two months after undergoing surgery for a torn ligament in his left foot, carded seven birdies to book a top-10 finish on his comeback with a total of 20.
She was bogey-free in the first and second rounds.
"I'm about 80% back now. My expected return was in August, but I came back about a month early," said Kim. "I only played my first round on the 17th, but it went well, so I'm excited." 토토사이트